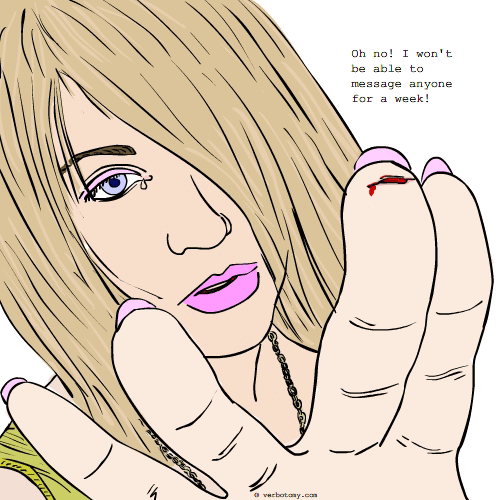 DEFINITION: n., A pesky but persistently painful, and seemingly incurable paper cut, which simply refuses to heal. n. To cut or injure a "high use" body part, like a fingertip, knuckle or tongue.
Already Voted
Vote not counted. We have already counted two anonymous votes from your network. If you haven't voted yet, you can login and then we will count your vote.
---
Cutstration
You still have one vote left...
Created by: MashedSalad
Pronunciation:
Sentence: I bet you love Vecktomizing don't you?
Etymology: When Someone Vecktomizes you you are kissed with lots of love and tongs!!!
Created by: artr
Pronunciation: aksidənt
Sentence: John was fed up with the tree that dropped staining red berries on his new white car so he decided to chop it down. His lack of experience with tools and innate ineptitude left him with an axident in his forehead.
Etymology: ax (a tool typically used for chopping wood, usually a steel blade attached at a right angle to a wooden handle) + accident (an unfortunate incident that happens unexpectedly and unintentionally, typically resulting in damage or injury) + dent (a slight hollow in a hard, even surface made by a blow or by the exertion of pressure)
Created by: bookowl
Pronunciation: stab/in/a/bill/i/tee
Sentence: He was unable to shuffle cards at the casino due to his stabinability.
Etymology: stab + inability + stability
Created by: Mustang
Pronunciation: TRAW - muh - lin - ger
Sentence: The long lasting small cut on the tip of her finger made ordinary tasks like typing, text messaging,etc very painful, and Shasta was beginning to think the traumalinger was going to be permanent.
Etymology: Blend of the words 'trauma' (injury) and 'linger' (To persist)
Created by: ErWenn
Pronunciation: /ˌʌnˈskæbəbḷ/
Sentence: As a compulsive scab-picker, Joseph found his unscabable wound annoying for more than one reason.
Etymology: un + scab + able, as in unable to be scabbed over
----------------------------
COMMENTS:
gruesome, but good. - galwaywegian, 2007-10-03: 06:18:00
You're on a roll ErWenn! - Scrumpy, 2007-10-03: 15:03:00
Powerful, earthy, teutonic and meaningful! - OZZIEBOB, 2007-10-03: 18:31:00
----------------------------
Created by: artr
Pronunciation: stingərtip
Sentence: Jimmy is in charge of the stockroom at the restaurant where he works. Papercuts from the cardboard boxes are rampant. When he preps lemons for the day he has to deal with a handful of stingertips.
Etymology: sting (feel or cause to feel a sharp tingling or burning pain or sensation) + fingertips (the tip of a finger)
Created by: LoftyDreamer
Pronunciation: payn-agayn, preferably pronounced in the snooty British way, a la Eliza Doolittle.
Sentence: After injuring herself with the needle while finishing her latest creation, and despite the painagain reasserting its presence, she was determined to finish the hem of the skirt before Tim Gunn called the contestants to the runway.
Etymology: pain (as in "ouch") + again (as in over and over and over)
Created by: OZZIEBOB
Pronunciation: OUCH - nik
Sentence: Ozzie was an ouchnik, obsessed and overwhelmed by the fear of being ouchnicked.
Etymology: OUCH: an exclamation expressing sudden pain or dismay & NICK: a small dent or wound.
Created by: Mustang
Pronunciation: Whim-per-ciz-yun
Sentence: The pain from the whimpercision on her finger repeatedly brought tears to Lainie's eyes.
Etymology: Whimper - incision
Created by: WordKing77
Pronunciation:
Sentence:
Etymology: