Verboticism: Transglamorphrenia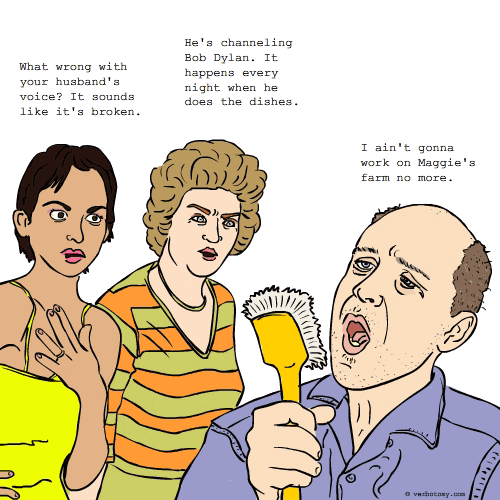 DEFINITION: n. A person who adopts the stylings, mannerisms and even of the personality of their favorite rock, movie or television star. v. To derive your identity from someone else, especially a famous person.
Already Voted
Vote not counted. We have already counted two anonymous votes from your network. If you haven't voted yet, you can login and then we will count your vote.
---
Transglamorphrenia
You still have one vote left...
Created by: BeauKnows
Pronunciation: Lil-Wayn-Ker
Sentence: Dave struggling through a midlife crisis, did not buy a Corvette. He decided to unleash is inner rapper. When the auto tune craze hit he was unstoppable. He was so obsessed, he even got a tear drop tattoo. He became a lilwaynker.
Etymology: Lilwayn (the rapper) Wanker (pejorative term of English origin)
Created by: merfinity
Pronunciation: Gelt me niac
Sentence: If Oscar Wilde were to be alive today, this is how he would have used the word probably... "Geltmaniacs are a delight to come across, they bring along everything worthy of imitation without having the whims and fancies of a star"
Etymology: Gelt- (Geltung German ) the desire to be important, famous etc. maniac (maniakos Greek, maniacus Latin) a person who has a great craving or enthusiasm for something
Created by: mweinmann
Pronunciation: mok + st + r
Sentence: Jeffrey grew up dreaming that he would become famous singing the songs that he wrote, travelling the world with screaming fans following him. Instead, he became a mockstar, singing songs written by others in their voices with only about 15 fans following him.
Etymology: mock, rock, star
----------------------------
COMMENTS:
like it - galwaywegian, 2009-05-06: 09:39:00
funny - Jabberwocky, 2009-05-06: 13:25:00
Simple, succint, efficient. - dochanne, 2009-05-06: 19:05:00
good word! - splendiction, 2009-05-06: 23:05:00
----------------------------
Created by: galwaywegian
Pronunciation: zim purr sun ayt
Sentence: His Zimmpersonation was convincing for the most part, unless he had sinusitis or beans
Etymology: Zimmerman, impersonate
----------------------------
COMMENTS:
another Dylan reference - you get a vote from me - Jabberwocky, 2009-05-06: 13:19:00
brilliant! - mrskellyscl, 2009-05-06: 18:56:00
Zimmortal word! - Nosila, 2009-05-06: 23:23:00
----------------------------
Created by: galwaywegian
Pronunciation: zim ur man ur iz m
Sentence: Despite his many zimmermanerisms, and his styling, it becomes apparent once he starts to sing that, no, no, no, it aint him, babe. His voice was far too good.
Etymology: zimmerman, mannerism
Created by: mrskellyscl
Pronunciation: em-u-tate
Sentence: Randy loved to do Elvis so much that he emutated one night after supper. He quit his job at Maggies farm, dyed his hair black, and spent the rest of his days in Vegas wearing a white rhinestone suit, sunglasses and eating fried peanut butter sandwiches. After he was found face down in his shag carpet at Spaceland, his tombsone was engraved with the words, "Thank you, thank you very much."
Etymology: emulate: strive to be equal or better by reproducing someone's mannerisms and/or looks + mutate: become different in essence, lose one's identity
----------------------------
COMMENTS:
Quite clever...Webster material! - jasjamson, 2009-05-08: 02:03:00
----------------------------
Created by: Jabberwocky
Pronunciation: em/yu/tu/late
Sentence: Bob changed his name to Bono and now talks with an Irish accent as he desperately tries to emutwolate his favoutite rock star. He's even started wearing those clunky spongy shoes to make himself look taller.
Etymology: emulate + U2
Created by: Mustang
Pronunciation: all-ter-E-go-tist
Sentence: Sheldon was a shameless alteregotist, truly believing if he could do reasonable impressions of famous entertainers he could adopt their persona and their popularity.
Etymology: Play on the term alter ego.
----------------------------
COMMENTS:
An alter ego toast! - emdeejay, 2009-05-06: 03:13:00
nice - galwaywegian, 2009-05-06: 09:39:00
great combo - Jabberwocky, 2009-05-06: 13:20:00
----------------------------
Created by: ankur
Pronunciation: may-rocks-o-celeb
Sentence: See that guy over there doing the moonwalk?he's been a Michael Jackson meroxoceleb since he saw the "thriller" video...
Etymology: me = the person who is impersonating the start. Xerox = co. name or the popular word used for photocopies. o = of. celeb = celebrity.
Created by: hyperborean
Pronunciation: trans-glam-ur-frehn-ee-uh
Sentence: His transglamorphrenia made him think he was deceiving others into believing he was Diana Ross. He pulled it off fairly well considering he weighed three hundred pounds and lived in a homeless shelter for men.
Etymology: trans (change, transfer, as in transvestite) + glamor (an air of compelling charm, romance, and excitement) + phrenia (mental disorder, as in schizophrenia)
----------------------------
COMMENTS:
funny sentence - Jabberwocky, 2009-05-06: 13:25:00
----------------------------