Verboticism: Personalistality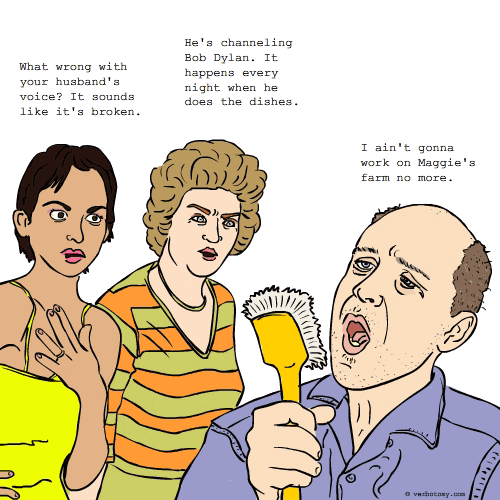 DEFINITION: n. A person who adopts the stylings, mannerisms and even of the personality of their favorite rock, movie or television star. v. To derive your identity from someone else, especially a famous person.
Already Voted
Vote not counted. We have already counted two anonymous votes from your network. If you haven't voted yet, you can login and then we will count your vote.
---
Personalistality
You still have one vote left...
Created by: BeauKnows
Pronunciation: Lil-Wayn-Ker
Sentence: Dave struggling through a midlife crisis, did not buy a Corvette. He decided to unleash is inner rapper. When the auto tune craze hit he was unstoppable. He was so obsessed, he even got a tear drop tattoo. He became a lilwaynker.
Etymology: Lilwayn (the rapper) Wanker (pejorative term of English origin)
Created by: dekra
Pronunciation: Auto-crewn
Sentence: Johnny couldn't resist breaking into falsetto every time the Bee-Gees came over the airwaves. Janice just laughed, "Here we go again with the autocroon!" Although Johnny could really stand to prop up his vocals with some Auto-Tune.
Etymology: Auto-Tune + Croon
Created by: Jabberwocky
Pronunciation: em/yu/tu/late
Sentence: Bob changed his name to Bono and now talks with an Irish accent as he desperately tries to emutwolate his favoutite rock star. He's even started wearing those clunky spongy shoes to make himself look taller.
Etymology: emulate + U2
Created by: galwaywegian
Pronunciation: zim ur man ur iz m
Sentence: Despite his many zimmermanerisms, and his styling, it becomes apparent once he starts to sing that, no, no, no, it aint him, babe. His voice was far too good.
Etymology: zimmerman, mannerism
Created by: dochanne
Pronunciation: Sell-effigy
Sentence: Michaela couldn't help herself, her identimitation was complete and when she stepped out she was a fabulous and flirtatious Marylin staricature, all blonde curls and buxom bosom. Her idolity extended to feigning an isolating fame but her reputation was cast as the most extravagant and talented celeffigy in town.
Etymology: Celebrity - a person known throughout the world for something other than their talent; Effigy - copy or representation, usually of a famous, infamous or otherwise "known" personage.
----------------------------
COMMENTS:
With identimitation as Identity and Imitation and reminiscent of identification as why people admire their idols. Staricature - Star and caricature, obvious really, and idolity as Idol and Identity blended because that's what she does.. - dochanne, 2009-05-06: 03:17:00
Iconic :-) - emdeejay, 2009-05-06: 03:23:00
nice - Jabberwocky, 2009-05-06: 13:23:00
----------------------------
Created by: emdeejay
Pronunciation: mike airy us
Sentence: "When the Jester sang for the King and Queen in a coat he borrowed from James Dean" he was probably not being micarious, but my attempts to channel Don certainly are. Alas, they're almost bad enough to deserve an (American) Pie in my face...
Etymology: Mic(rophone): used to amplify the voices of performers, both good and bad. Vicarious: To take the place of or imitate another, to feel what's it's like to be them.
----------------------------
COMMENTS:
Dressing up for the part made him microbial as well? - Mustang, 2009-05-06: 06:33:00
:-) I just love all the Dylan references in American Pie ... - emdeejay, 2009-05-06: 23:08:00
----------------------------
Created by: DrWebsterIII
Pronunciation: drag-zil-a-mim-ik
Sentence: Everyday before Earl got home from work, Doralee would dragzillamimic Tammy Wynette, and the likes of her colleagues, trying not do do them any injustice. Singing into her frying pan, what little life was left in it, and her sanity.
Etymology: dragzilla + mimic
Voted For! | Comments and Points
Created by: remistram
Pronunciation: purr-son-ay-list-al-ity
Sentence: Chad started to develop a personalistality based on his mancrush Brad Pitt. Of course he looked nothing like him. He also asked his girlfriend if they could adopt 3 children.
Etymology: personality + a-list (the beautiful people, elite, high society)
Created by: artr
Pronunciation: rep-li-kroonr
Sentence: When Alvin is in the shower he seems to think he is the embodiment of Frank Sinatra. More than once the neighbors have called animal control on this replicrooner sure that he is abusing some poor defenseless animal.
Etymology: replica (any close or exact copy or reproduction) + crooner (singing or humming in a soft, soothing voice)
Created by: ankur
Pronunciation: may-rocks-o-celeb
Sentence: See that guy over there doing the moonwalk?he's been a Michael Jackson meroxoceleb since he saw the "thriller" video...
Etymology: me = the person who is impersonating the start. Xerox = co. name or the popular word used for photocopies. o = of. celeb = celebrity.