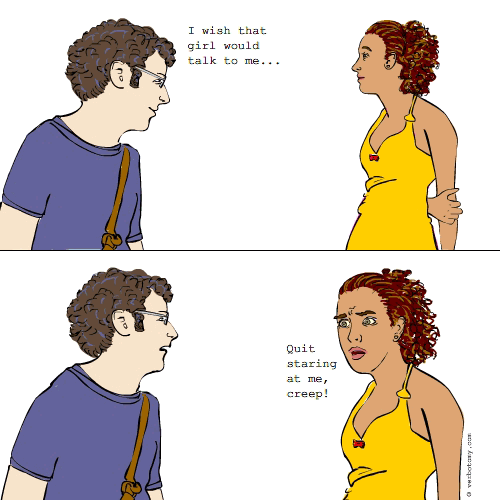 DEFINITION: v. To get what you wished for, but not exactly what you wanted. n. A wish come true that's a total let down.
Already Voted
Vote not counted. We have already counted two anonymous votes from your network. If you haven't voted yet, you can login and then we will count your vote.
---
Ok
You still have one vote left...
Created by: Alchemist
Pronunciation:
Sentence: One beer left, but it was flat! Boomafied again!
Etymology: Boom from Boomarang to turn upon oneself, and fy, from gratify to gratify...
Created by: galwaywegian
Pronunciation: suk seeeeeed
Sentence: Finally he suckseeded in getting her attention. Unfortunately, he also got the attention of her rottweiler
Etymology: succeed, suck
Created by: quippingqueen
Pronunciation: wish/war/an/tee
Sentence: Regretfully, his "wishwarranty" did not cover this unexpected exigency.
Etymology: It's a pity that a "wish", like unrequited love, does not come with a no questions asked money-back guarantee.
Created by: bernard
Pronunciation: am always me
Sentence: more of me is real so i cant fail
Etymology: am who you would like to see
----------------------------
COMMENTS:
here is superb - bernard, 2012-05-04: 12:51:00
----------------------------
Created by: scrabbelicious
Pronunciation: Dough-Dream
Sentence: D'ohdream!, not again, I must be due one small dream to come true:(
Etymology: Remming together of 1)D'oh, exclamation of fury, discontent and general indignance made famous by Homer of the Simpsons 2)dayDream Chief activity of Walter Mitty and his decendents (mankind..not womankind mind)
Created by: artr
Pronunciation: dāskrēming
Sentence: His mother always told him, \"be careful what you wish for\" and now he knew why. Ever since he had taken up boxing to get in shape Sidney would daydream about being good enough to go pro. Now, sitting in the ring across from the champ, his daydreaming had turned into dayscreaming. It was a full-fledged daymare. Sure, it was just a charity exhibition match but the look in the champ\'s eyes when Sidney teased him about his pink trunks left him hoping that his teeth were well anchored.
Etymology: daydreaming (a series of pleasant thoughts that distract one\'s attention from the present) + screaming (give a long, loud, piercing cry or cries expressing excitement, great emotion, or pain)
----------------------------
COMMENTS:
- good word! - splendiction, 2009-07-28: 20:26:00
----------------------------
Created by: kateinkorea
Pronunciation: SNARE cass el
Sentence: I got caught in another snarecastle in the grocery store when I saw a beautiful woman looking at me and then after I smiled at her, realized she thought I worked in the store.
Etymology: SNARE: trap AIRCASTLE" head in the clouds, dreams, fantasies
Created by: IHeartKiwiTarts
Pronunciation: "in-cog-rick"
Sentence: isn't it incogrick?
Etymology:
Created by: wordmeister
Pronunciation: mish-wish
Sentence: Jonny was playing his song on the street corner when he closed his eyes and mishwished for a huge hit. The last thing he heard was a roar and screech, which he imagined as a crowd of fans. Unfortunately, it was a cement truck and it didn't stop until it hit the wall behind him.
Etymology: mistaken wish
Created by: mrskellyscl
Pronunciation: rain-blow
Sentence: Jim was always chasing rainblows. Everytime he thought his dreams would come true, something always managed to blow it.
Etymology: rainbow: "I'm always Chasing Rainbows" was a song by Harry Carroll in 1918 about an optimistic person who was constantly pushed back by the events of life, and was a popular song of the time. It was featured in a 1941 movie sung by Judy Garland. It was also recorded by Bing Crosby, Perry Como and other crooners of the era. It was also one of my grandmother's favorite songs. + Blow: 1) a sudden unexpected event 2) slang - "that blows" -- something that sucks or is a bummer
----------------------------
COMMENTS:
Pefect! I love it. - mweinmann, 2009-07-28: 08:00:00
----------------------------