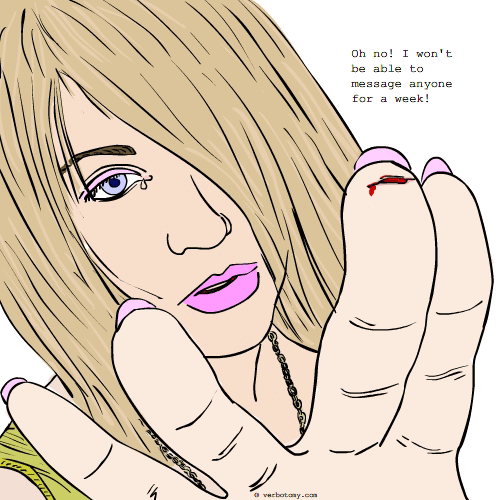 DEFINITION: n., A pesky but persistently painful, and seemingly incurable paper cut, which simply refuses to heal. n. To cut or injure a "high use" body part, like a fingertip, knuckle or tongue.
Already Voted
Vote not counted. We have already counted two anonymous votes from your network. If you haven't voted yet, you can login and then we will count your vote.
---
Repetipain
You still have one vote left...
Created by: rebelvin
Pronunciation: linger+finger+injury
Sentence: I tried to keep from shaking hands since somehow I had managed to lingerfingerinjure my right thumb.
Etymology: linger+finger+injury
Created by: vmalcolm
Pronunciation: /laɪfnɒt/
Sentence: I've got a lifenot in my right thumb... This lifenot doesn't seem to be healing... I can't eat with this lifenot in my tongue!
Etymology: LIFENOT - noun. From Life (time for which something exists or functions) + Not (negation, denial, refusal, or prohibition)
Created by: mrskellyscl
Pronunciation: sting-ma-ta
Sentence: Because of infected stingmata on the hands of their guitarist, Lee Shun, the metal band "The Oweeze" cancelled part of their tour until the sores healed. Due to the unusual location of the wounds, metalheads throughout the country have begun to believe that Shun is a mystic and thousands of fans, all bearing tatoos resembling his stingmata have camped outside of his house. The band's manager, Rip Entaire, explained that Lee was wounded in a fistfight with a violent fan; however, the drummer, Cut Andrun, revealed the shocking truth in a Rolling Stone article that he tripped while trying to photograph butterflies.
Etymology: sting: burning or sharp pain + stigmata: wounds or lesions that resemble the marks of crucifixioin + stigma: mark of disgrace
----------------------------
COMMENTS:
This is hilarious - mweinmann, 2010-01-21: 07:28:00
Gave me my morning laugh! - artr, 2010-01-21: 09:22:00
----------------------------
Created by: simoneshin
Pronunciation: emo-philia
Sentence: Suzie pinched herself with the needle and now she thinks she's going to die. A very very slow and excrutiating death
Etymology: emotion + hemophilia
Created by: remistram
Pronunciation: in-kyoor-uh-kut
Sentence: Her blackberry looked like she bludgeoned someone with it, but it was just her incuracut acting up again.
Etymology: incurable + cut
----------------------------
COMMENTS:
Good word! - OZZIEBOB, 2007-10-03: 18:33:00
----------------------------
Created by: Scrumpy
Pronunciation: buhg-uh-boo-boo
Sentence: Ken was reminded of the bugabooboo on his finger when he attempted to fish some jalapenos out of a jar. This was the worst pain he had experienced since he had eaten a salty potato chip and irratated his lip ulcer.
Etymology: bugaboo (a recurring problem or situation) + boo-boo
----------------------------
COMMENTS:
she's crying in the cartoon so maybe it's a bugabooboohoo - Jabberwocky, 2007-10-03: 15:23:00
Clever and interesting! - OZZIEBOB, 2007-10-03: 18:27:00
----------------------------
Created by: artr
Pronunciation: KRON-i-kut
Sentence: Nothing seemed to work. Barry tried Band-aids, antiseptic ointment and iodine. He just couldn't get the cronicut on the tip of his tongue to heal.
Etymology: Cronic (persistent, long-standing, long-term; incurable) Cut (make an opening, incision, or wound)
----------------------------
COMMENTS:
Good word - OZZIEBOB, 2008-09-05: 01:45:00
----------------------------
Created by: Nosila
Pronunciation: mul tee mute til ay shyn
Sentence: Sandra's old war wound, a papercut on her index finger opened again and bled all over her work. Her multimutilation barely healed before it was ripped open again. Being a file clerk in the Army was certainly dangerous work...
Etymology: Multi (mulitple,many, much, more than one) & Mutilation (wound,injury)
Created by: fourgirls
Pronunciation:
Sentence:
Etymology:
----------------------------
COMMENTS:
great word! - fourgirls, 2007-10-03: 15:24:00
----------------------------
Created by: abrakadeborah
Pronunciation: nok-ah-woond
Sentence: Poor little Windsey's knockawound prevented her from using her iPhone to notify her entourage where the party was.
Etymology: Knock- To collide with something. A- Used as a function word. Wound- An injury, usually involving division of tissue. (a cut)