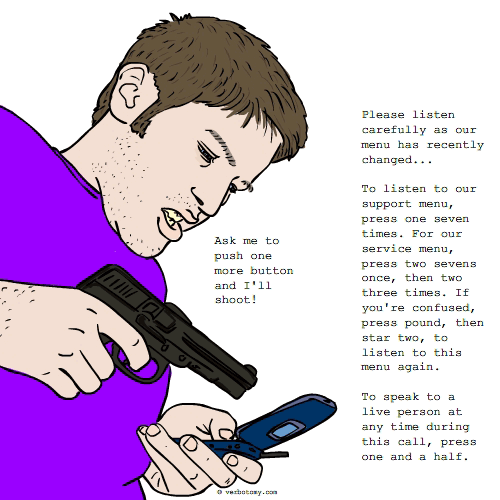 DEFINITION: v. To call a phone "help line" and spend 45 minutes pushing buttons and screaming at dumb voice-recognition system, before being automatically disconnected. n. A push-button or voice-activated phone menu system designed to irritate those who use it.
Limboloop
Pronunciation: lim-boe-loop
Sentence: Jason knew that as soon as the computer started acting funny he had to call the customer service hotline. This frustrated him to no end because he knew that he would have to enter in the model number, serial number, the product code and the color of the unit before he even got to the limboloop hell of regional call centers, problem troubleshooting, cream and sugar preference, and choice of wait time muzak, only to have to give the same information when transfered to a human voice with a Irish Catholic name and an Indian accent.
Etymology: limbo, a place or state of oblivion to which persons or things are regarded as being relegated when cast aside, forgotten, past, or out of date + loop,Something having a shape, order, or path of motion that is circular or curved over on itself.
Points: 713