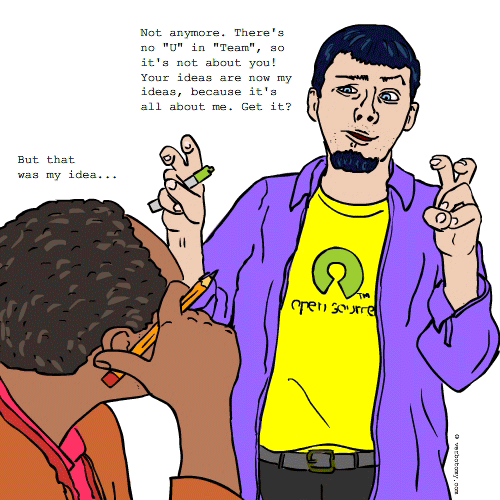 DEFINITION: n. A team member who always shares the workload, but nevertheless tries to get exclusive credit for any work done. v. To temporarily suppress your own need for self-aggrandizement.
Raverobber
Pronunciation: /REYV-rob-er/
Sentence: Patrick was walking by the conference room when he happened to see one of the slides he'd created for the team's presentation from last week being shown on the screen, so he stopped and peeked in. Their proposal had been a big hit with the customer, but now Aaron, his coworker, was going over their presentation with the division manager and, raverobber that he is, Aaron was taking credit for the entire proposal, and for single-handedly winning the new account.
Etymology: Play on the word 'Graverobber'; Rave - extravagantly flattering or enthusiastic, e.g. 'rave reviews of a new play' (from Old French, raver "showing signs of madness or delirium) + Robber - one who steals; a thief (from Old High German, roubon "to rob")
Points: 692