Verboticism: Hidermaphobia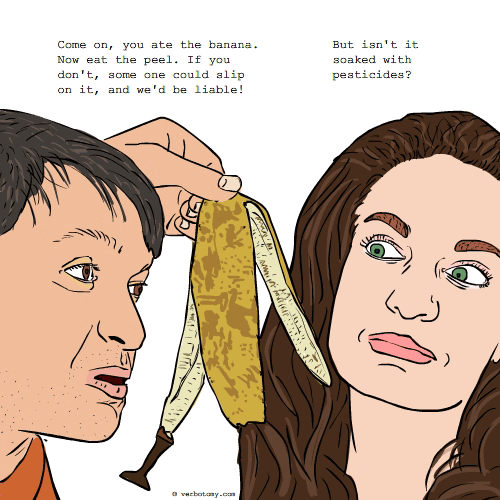 DEFINITION: n., The fear of eating the skins of fruits, vegetables, or small animals. v., To worry about saving one's skin while chewing on a rind, peel, or pelt.
Hidermaphobia
Pronunciation: hy derm a fobe eeya
Sentence: Heidi had Hidermaphobia and could not hide it. Whether she travelled to Hyderabad or Hernando's Hideaway, she could not eat the hide of any fruit or any vegetable. She could not hide from it. In fact her fear was so great, a-pare-entally she could not even peel them. The eyes on potatoes stared at her accusingly;eating cherries was the pits;beets had her beat;peas made her snap and she feared bananas a bunch. She'd turnip her nose at rutabagas; carrots made her want to top herself and onions made her cry. It was then no wonder that when the cute guy in Produce asked her to go out on a "date", she ran screaming from the grocery store! Now Heidi is in hiding.
Etymology: Hide(body covering of a living animal or the dressed skin of an animal) & Derma (the deep vascular inner layer of the skin) & Phobia (fear; an anxiety disorder characterized by extreme and irrational fear of simple things or social situations)
Points: 614