Verboticism: Convictimization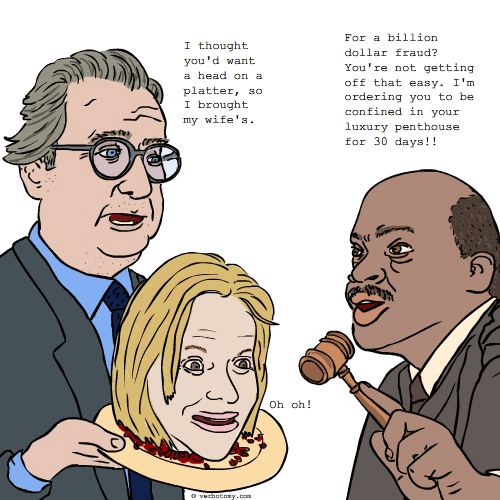 DEFINITION: n. A punishment which does not fit crime. v. To assign a punishment which is bizarrely inappropriate, and seems totally unrelated to the crime which has been committed.
Convictimization
Pronunciation: kon vik tim ize ashun
Sentence: It was pre-ordained. His name was Rob and by gosh, that is what he did for a living. He also wrote very bad checks. When he was caught and sentenced to 25 years in the pokey, he thought he had fallen prey to convictimization. He was incarcerated at Sing Sing, where contrary to the name, they did not sing, often or well. Warden Gordon Borden thought it would be ironic if Rob wrote the new Prison Newsletter, since he was so good at writing (bad checks). Rob called this literary marvel, "Sentences" and worked hard at it to make it informative and entertaining. He carried regular features, such as a column on advice to the lovelorn..."In-Mates" with such pertinent features as "Are you suffering from Penal Dysfunction?";The Daily Horrorscope ("Your life has settled into predictable routine but just wait, the new screw in Cell Block 4 has his eye on you. Prepare for excitement."); a singles column "Cell-ABC" and recipes from the prison kitchen, "The Garden of Pleadin'" ...for Chili CON carney...take 500 pounds of ground meat, throw in 18 cups of saltpeter,...etc. He also added news items that affected his readership: "Care and feeding of your pet Cockroach"; and he used the digital camera to get candid snaps of daily life column, "I've been framed". Rob became a publishing ty-con and made the most of his pun-nishment!
Etymology: Convict (a person serving a sentence in a jail or prison; a person who has been convicted of a criminal offence; find or declare guilty) & Victimization (adversity resulting from being made a victim; an act that exploits or victimizes someone (treats them unfairly))
Points: 950