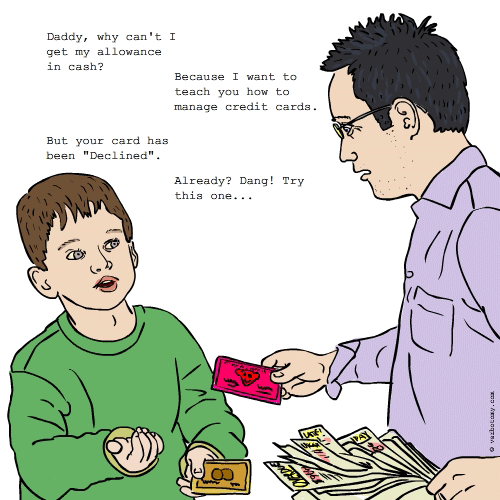 DEFINITION: v. To exclusively use credit cards, debit cards and/or electronic banking in order to avoid using, or even touching, old fashioned cash. n. A person who never pays for anything using real money.
Sleasypay
Pronunciation: sleez e pay
Sentence: Sal was warned not to put her sleasypay tab on her keychain. Well, sure enough, Sal lost her fourth set of keys along with her sleasy pay tab! She was responsible for any and all purchases made with the sleasy tab even if she reported it left her own hands! (Not to mention her car could be driven by anyone!) The sleasy tab was all too easy! Sal worried her credit and bank cards could be used the same way... but she still wouldn't give them up! They were so easy!
Etymology: From sleazy (contemptible) and easypay, a form of plastic payment. It means: a disreputable form of payment.
Points: 917