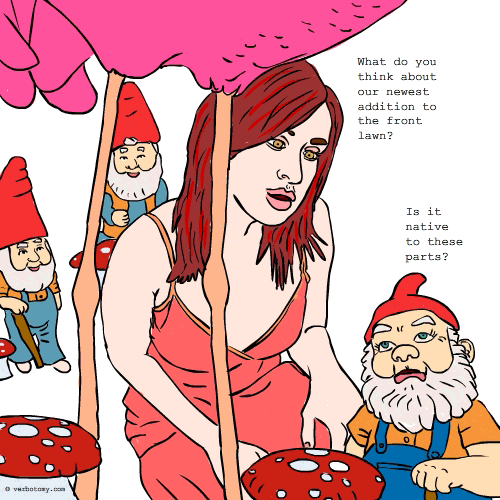 DEFINITION: v. To express your love of nature by covering your lawn with statues, ornaments and other plastic figurines. n. A home which is infested with gnomes, elves, plastic animals, and other lawn ornaments.
Cornyments
Pronunciation: korh-nee-mintz
Sentence: Ova D. Topp loved looking down over the cosmos of cornyments she had created. Near the curb were the worms, caterpillers and fish. Next was a terrace of teradactyls and T-Rex's. Above them were the gnomes and fairies, separated by a bridge (underneath were the trolls) which led to deer, swans and toadstools. Closest to her throne on the porch were statues of a little girl reading, a boy fishing, a mermaid, a trio of angels and Athena, a Greek goddess. The only disturbance to her sight were the two For Sale signs on her neighbors' lawns which never went away.
Etymology: Blending CORNY + ORNAMENTS
Points: 1067