Vote for the best verboticism.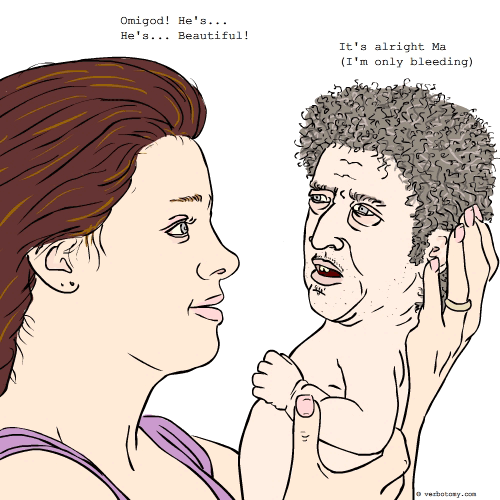 DEFINITION: n. The emotional connection between a mother and her child, which continues on through life despite all the protestations. v. To be loved by your mother and even though you complain about it a lot.
Verboticisms
Click on each verboticism to read the sentences created by the Verbotomy writers, and to see your voting options...
You have two votes. Click on the words to read the details, then vote your favorite.
Created by: November
Pronunciation: oxytoxin-diss-materealization
Sentence: He suffered from the immature and life long curse of "oxytoxin dissmaterealization".
Etymology: A Mashup from the words: oxytocin,toxin,to"diss",mater -(Noun 1. mater - an informal use of the Latin word for mother; sometimes used by British schoolboys or used facetiously ),dematerialize/realize/realization.
----------------------------
COMMENTS:
his poor mother - Jabberwocky, 2009-05-08: 13:18:00
----------------------------
Created by: jasjamson
Pronunciation: N-fab-o-mum
Sentence: Infabomom created a healthy relationship with his wife and mother-in-law.
Etymology: Infant bonding with mother. Infa + bo + mom = infabomom
----------------------------
COMMENTS:
a 'bon mot' - Jabberwocky, 2009-05-08: 13:14:00
----------------------------
Created by: Tawkir
Pronunciation:
Sentence:
Etymology:
Created by: hyperborean
Pronunciation: woom-ans
Sentence: Sarah was jealous of her husband's wombance with his mother until she had her first child. Then she understood.
Etymology: womb (uterus) + romance (a love affair)
----------------------------
COMMENTS:
reminds me of Van Morrison's Moondance; Well, its a marvelous night for a wombance - Jabberwocky, 2009-05-08: 13:20:00
Wombance - is that when wombats feel romance?? - Nosila, 2009-05-08: 23:23:00
----------------------------
Created by: Nosila
Pronunciation: mat urn al it ee
Sentence: She always told her daughter, "You'll always be my baby, even when you're eighty!" It was her chant of maternality. Now her daughter is eighty and she at 100 still has her baby!
Etymology: Maternal (characteristic of a mother) & Eternity (time without end)
Created by: dochanne
Pronunciation: Dill-an-kwern-see
Sentence: Cameron bristled every time his mother's dylanquerncy surfaced, it reminded him of where he once begun, she would 'always be emotionally yours', even when he was unraveling wherever he's traveling, even to foreign shores. Despite his behaviour or her neediness, boy, mama was on his mind!
Etymology: Dylan - rocks; delinquency - objectionable behaviour usu of youth and emotionally laden; maternity/paternity - parentage; infancy - period of immaturity and neediness.
Created by: Koekbroer
Pronunciation: mom-barr-rass-mint
Sentence: She's a bit of a mombarrassment when she smothers Doug because he always complains afterwards.
Etymology: mom + embarrassment
Created by: ShittyZen
Pronunciation: momdage
Sentence: Lacking competition from a needy father, her deadbeat kids kept her in eternal momdage.
Etymology: Mom + bondage (As in "serfdom," not the sexual practice, you pervs!)
Created by: emdeejay
Pronunciation: pair entrapment
Sentence: Bob once had a case of parentrapment: "Come mothers and fathers throughout the land. And don't criticize what you can't understand. Your sons and your daughters are beyond your command. Your old road is rapidly agin'." ... Youth is charming, but at times a little selfish and impatient. This is more how I feel: "Love while ya can 'cos too soon they'll be gone, for the times they are a changin'"
Etymology: Parent: mum or dad. Entrapment: a compromising situation imposed upon you. Bob Dylan: You rock, man. Mum: I love you
----------------------------
COMMENTS:
nice Dylan reference - Jabberwocky, 2009-05-08: 13:19:00
Fabulous. Love the sentence. - dochanne, 2009-05-08: 19:45:00
----------------------------
Created by: Jabberwocky
Pronunciation: um/bill/i/call/ing/card
Sentence: No matter where you may be or what you may be doing you have a lifelong umbilicallingcard with your mother. If not for you, Babe, I couldn't find the door, Couldn't even see the floor, I'd be sad and blue, If not for you.
Etymology: umbilical + calling card
----------------------------
COMMENTS:
real charm to umbilicallingcard! - splendiction, 2009-05-08: 23:07:00
Cute...I feel so attached. Cord-On Blue! - Nosila, 2009-05-08: 23:19:00
----------------------------