Vote for the best verboticism.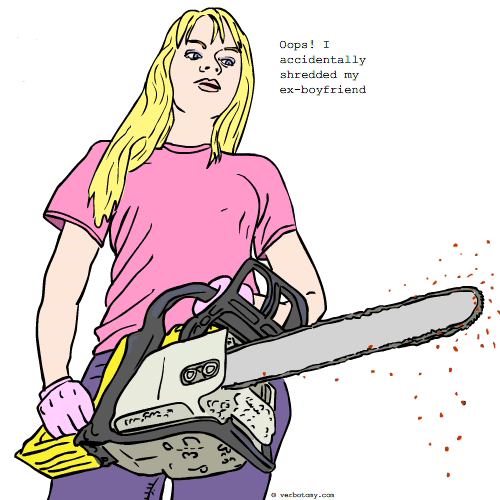 DEFINITION: v. To fret and worry after the accidental trashing of an important document, file or friend. n. The state of anxiety caused by an accidental deletion.
Verboticisms
Click on each verboticism to read the sentences created by the Verbotomy writers, and to see your voting options...
You have two votes. Click on the words to read the details, then vote your favorite.
Created by: Biscotti
Pronunciation: freek-zhure
Sentence: I had a bad case of freakzure when I accidentally deleted that 20 page paper about nothing.
Etymology: freakout + seizure
----------------------------
COMMENTS:
Unique choice of words to blend. - silveryaspen, 2008-03-05: 13:18:00
----------------------------
Created by: brasstax82
Pronunciation: miss-haa-ball-ish
Sentence: Realizing too late that it WAS in fact her bra in the back seat of her BF's car, jenny quickly regretted her little mishabolish.
Etymology: Mishap: An unfortunate accident Abolish: To put an end to. Slang often used in many prominent law firms, political offices, and Energy company board meetings.
Created by: Jabberwocky
Pronunciation: frag/lamen/tay/shun
Sentence: Sally was filled with fraglamentation when her designer scarf got caught up with the documents she was attempting to shred.
Etymology: fragmentation + lament
Created by: Banky
Pronunciation: unn-rohn
Sentence: Rod, the Burger Time manager on-duty collected the driver's license, social security card, application, and insurance forms from his new employee, Tara, and headed for the grimy copy machine in the back office. A recently mopped floor yielded to his black Hush Puppies and Rod met floor with no pleasantries. The documents drifted atop the griddle, where they immediately vaporized as Rod watched from the floor, pale with unron shock.
Etymology: The opposite of Enron, a company which intentionally shredded scads of important documents in an attempt to avoid legal trouble.
----------------------------
COMMENTS:
Terrific analogy! Clever! - silveryaspen, 2008-03-05: 13:29:00
----------------------------
Created by: metrohumanx
Pronunciation: VAY-pore-ryth-MEE-uh
Sentence: Mad Shirley experienced a mild attack of VAPORRYTHMIA after she impulsively killed her investment banker and left his atomized carcass in the woods, unburied. "Oh well!" she thought..."A buzzard's gotta eat...same as a worm." Now THAT'S executive compensation.
Etymology: VAPORize+arRYTHMIA=VAPORRYTHMIA........VAPORIZE:to cause to become dissipated or irrevocably and eternally destroyed by or as if by converting into vapor,to cause to become dissipated or damaged,( F.U.B.A.R.);Middle English vapour, from Anglo-French vapor, from Latin, steam, vapor.....ARRYTHMIA:an alteration in rhythm of the heartbeat either in time or force;New Latin, from Greek, lack of rhythm, from arrhythmos unrhythmical, from a- + rhythmos rhythm.
----------------------------
COMMENTS:
Awfully good...emphasis on the first word! - Nosila, 2008-12-30: 18:55:00
Awfully? - metrohumanx, 2008-12-31: 00:23:00
----------------------------
Created by: leechdude
Pronunciation: en-shred-ful
Sentence: Joanna's enshredful moment only brought harsh memories of her overdue Cola presentation.
Etymology: shred, full, en(prefix)
----------------------------
COMMENTS:
Interesting etymology! - silveryaspen, 2008-03-05: 13:16:00
----------------------------
Created by: Nosila
Pronunciation: shred jit ate
Sentence: Nathalie had found her new boyfriend in a compromising position with his teenage lover. Of course, she lost no time in revving up her chain saw and dispensing of the guilty parties. She did shredgitate a bit because, in hindsight, on such short notice, where else would she find another date for the New Year's Eve bash she had booked and a babysitter for her 6 kids? It was inshredulous that she might spend such a special day in jail!!!
Etymology: Shred(a tiny or scarcely detectable amount; tear into shreds) & Agitate (a mental state of extreme emotional disturbance;the feeling of being agitated; not calm)
----------------------------
COMMENTS:
Was surprised there was no reference to the most famous shredding incident of all time, Watergate. Luv shredigate! Do you ever wonder how much shredding is part of office politics, too? - silveryaspen, 2008-12-30: 16:40:00
----------------------------
Created by: ErWenn
Pronunciation: /ˈbʌdɚˌflɪŋgɚ/
Sentence: I am not really a butterflinger; it's just that I first accidentally dropped an important file into the recycle bin, then clicked the "empty recycle bin" item while trying to open the bin to get it back, and finally panicked and clicked "yes" when my computer asked me if that was what I really wanted to do. It's really Microsoft's fault for making it so easy to permanently delete documents.
Etymology: from butter(fing)er + fling
----------------------------
COMMENTS:
I tried to use one of those fancy pieces of software to recover the data from the hard drive, but I accidentally wrote zeros to every bit on the disk. Then I spilled corrosive acid and lighter fluid on it, set it on fire while trying to ascertain the damage with a candle, and mistakenly hit it with a sledgehammer 40 times. - ErWenn, 2008-03-05: 09:32:00
I actually did destroy a hard drive with a sledgehammer once, but that was on purpose. - ErWenn, 2008-03-05: 09:33:00
another migraine moment - I do like your word today - Jabberwocky, 2008-03-05: 10:44:00
Luv butterflingers ... maybe because that's what mine are! It's a great one letter change to blend two words into a really funny, but very apt, exceptional verboticism! Outstanding! - silveryaspen, 2008-03-05: 13:27:00
----------------------------
Created by: OZZIEBOB
Pronunciation: pulp-per-TEY-shun
Sentence: Little did the young reverend know that datastrophe dangled above him like damoclean sword, as he mistakenly shredded, and pulped the last dirty document from the Archbishop's 666 boxes of private pornographic papers. But when he heard a ranting, raving, roaring, purple-robed, crimson-faced figure storming towards him, he fell to his knees in prayer. And as he prayed, his thoughts were only of the Archbishop's pornografia, including the sincunabula he had unwittingly pulped, so much so that his pulpitations became so strong that he thought that his heart was a about to leap from his chest. Looking to the heavens for comfort all he could see were the church walls with Michelangelo's face staring back at him. Resorting to scripture, he yelled out in panic, "It's the "Textasy and Datagony. Textilence, perhaps - in the Archbihop's case, sextilence - is upon the land; Infogeddon is at hand."
Etymology: Blend of PULP: to reduce to pulp, destroy, crush; PALPITATION: to throb, flutter like the rapid beating of the heart when excited, anxious, nervous, etc; and, in this case, PULPIT.
----------------------------
COMMENTS:
Was it an apse in concentration? or was he just a nave? No doubt he aSPIRED to a higher existence. - petaj, 2008-03-05: 05:13:00
I assume its pulpiataion fiction! - galwaywegian, 2008-03-05: 06:23:00
pulpitation fiction! - galwaywegian, 2008-03-05: 06:24:00
another good one - Jabberwocky, 2008-03-05: 11:05:00
Datastrophe is right up there with pulpitation! Great sentence and verboticisms! - silveryaspen, 2008-03-05: 13:31:00
----------------------------
Created by: Stevenson0
Pronunciation: dee/lee/jee/beez
Sentence: With one keystroke, Jenny realized that she had eliminated four hours work and a most important document. She was overtaken by the delebiejeebies characterized by uncontrollable shaking and sweating.
Etymology: dele (to delete)+ heebie-jeebies (a condition of extreme nervousness caused by fear, worry, strain)
----------------------------
COMMENTS:
Rhyming syllables , great choice of words, fun blending, not only is the meaning evident, but the feeling it brings! Great creation! - silveryaspen, 2008-03-05: 13:14:00
----------------------------