Vote for the best verboticism.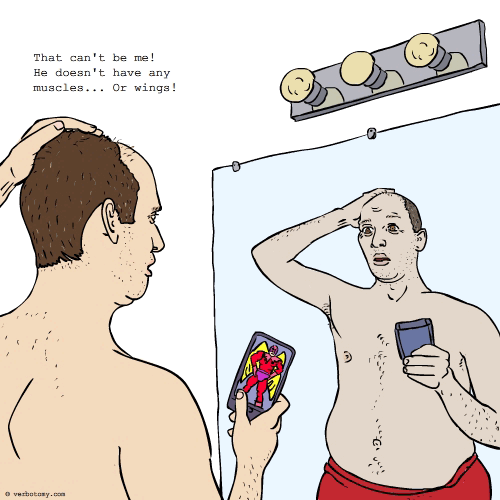 DEFINITION: n. A person who is so enamored with their online identity that they believe that it is more real than their physical one. v. To suddenly realize that you are large, blubbery mammal with no useful superpowers.
Verboticisms
Click on each verboticism to read the sentences created by the Verbotomy writers, and to see your voting options...
You have two votes. Click on the words to read the details, then vote your favorite.
Created by: bookowl
Pronunciation: spy/dur/woom/man
Sentence: Mary Jane fervently believed she was Spider Woman and even had a tatoo of a spider on her belly. When she was pregnant wearing a crop top she thought her secret was out when people started saying Spiderwomb-Man!! when they passed by.
Etymology: spiderwoman + womb
Created by: remistram
Pronunciation: ee-dent-it-ee
Sentence: Of course his edentity was that of slim, fit, attractive, manscaped, well-dressed with swagger. In reality he was a big blob who watched the Price is Right all day long in his underwear, was overweight, hairy, and lived on Wonder bread and Coke.
Etymology: e (short form for electronic as in online) + identity (oneself, sense of self, character)
Created by: ahwinters
Pronunciation: wow-skeh-tier
Sentence:
Etymology:
Created by: readerwriter
Pronunciation: ihm-mohr-tih-feyed
Sentence: Siggie's Id had always claimed he was immortal. His Superego told him if he ate his veggies, was a good boy, watched out for fast cars and bad women he might not die too young. But, looking in the mirror that day, his deflated Ego was immortified as he realized his real identity could no longer bounce between the other two. He was becoming self-fractualized!
Etymology: Blending IMMORTAL, meaning exempt from death + MORTIFIED (from the Latin/French MORT, meaning death), meaning humiliated. References are playing with Freud's theories of personality development and Maslow's self-actualization. (What do I know???)
----------------------------
COMMENTS:
nice - Jabberwocky, 2009-05-15: 10:28:00
----------------------------
Created by: abrakadeborah
Pronunciation: In-ter-blob-an-nat-er
Sentence: Mr. Whatzhizfaze looked in the mirror one day to see he had turned into an interblobanater. He was so wrapped up in his fake online personality he had forgotten who he really was.
Etymology: Inter:Taken in part from the word Internet. Blobanater: A blubbery overweight guy that pretends he is someone else online and starts to believe he really is his online persona...until he looks in the mirror one day and is shocked when he realizes he has spent way too much time on the internet being a fake person and that he had convinced himself he was someone else.
----------------------------
COMMENTS:
super - Jabberwocky, 2009-05-15: 10:30:00
Good one! - Nosila, 2009-05-15: 17:46:00
Thanks Jabber & Nosila :) - abrakadeborah, 2009-05-16: 06:47:00
----------------------------
Created by: CoriK
Pronunciation:
Sentence:
Etymology:
Created by: dekra
Pronunciation: Flab-uh-tar
Sentence: After a grueling 12 hour session of WOW followed by an intense round of COD, John was amzed to find that neither his svelte Wood Elf or his jacked Marine were staring him back in the mirror. Instead it was only his flabatar, a real life version of his online personality. Hours of online taunting of 12 year old's did not grant John the rock-solid abs of his avatars.
Etymology: Flabby (Fat) + Avatar (Online version of one's self)
Created by: theCountess
Pronunciation: Ave-ah-tard
Sentence: When an avatard sees himself in a mirror, his instinctive reaction is to break the spell by immediately gazing into his monitor for reimmersion.
Etymology:
----------------------------
COMMENTS:
Amen to the AvaTards who wear their avatars like leotards :P - dochanne, 2009-05-17: 23:44:00
----------------------------
Created by: mrskellyscl
Pronunciation: vir-tu-am-knee-ze-yal
Sentence: Vince spent so much time in his Second Life that he was virtuamnesial. After a good look in the mirror one morning, he realized to his horror that he was still in his first life and that he had forgotten to go to work and pay his rent. Homeless and penniless, he took his laptop to Starbucks and returned to his virtual kingdom that didn't suck.
Etymology: Virtual: 1) existing in essence or effect, but not appearance or form, 2) being actually such in almost every respect--such as a virtual wreck 3) a computer generated simulation + amnesia: a partial or total loss of memory, usually resulting from a shock, psycological disturbance or brain injury. "Second Life" -- a virtual world that people can create where they can live vicariously as the person they wish they really would be.
Created by: petaj
Pronunciation: earl-ter-ee-go
Sentence: Gordie64's IRLterego was known as Gordon and unlike the svelte, pixellated, online image, was a spotty, pudgy teenager.
Etymology: alter ego + IRL (in real life)