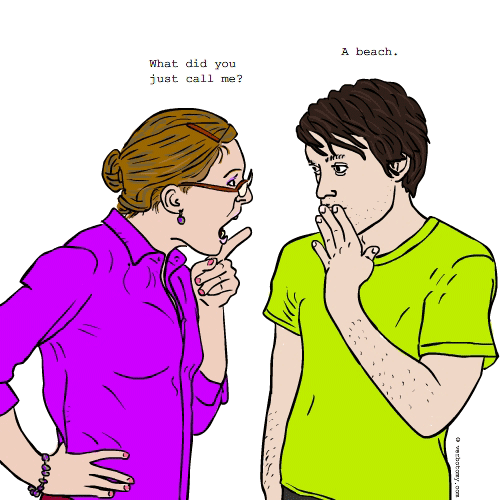 DEFINITION: v. To use alternative "code words" instead of proper cuss words, in an effort to satisfy people offended by such vulgarisms. n. A word used as a replacement for an obscene or profane expletive.
Already Voted
Vote not counted. We have already counted two anonymous votes from your network. If you haven't voted yet, you can login and then we will count your vote.
---
Eupheckmism
You still have one vote left...
Created by: artr
Pronunciation: fōfanətē
Sentence: Marge is the queen of fauxfanity. Her coworkers have no doubt how she feels even though she tries to remain semi-polite by using substitutes for profane language. Phrases like "No friggin' way", "What the fudge","Kiss my bass" or "Go hug yourself" have raised more than a few eyebrows.
Etymology: faux (artificial or imitation) + profanity (blasphemous or obscene language)
----------------------------
COMMENTS:
similar combinations but different results - great word - Jabberwocky, 2009-06-22: 14:18:00
----------------------------
Created by: libertybelle
Pronunciation: smut-stih-toot
Sentence: Because I work in a kindergarten I maintein a constant cuss diet and will resort to using smutstitute words when I am really gee-golly ticked off at some wing-nut. Though I'd reaally like to tell them to go fudge themselves!!
Etymology: smut + substitute
----------------------------
COMMENTS:
nice - Jabberwocky, 2008-05-08: 14:24:00
Perfect! - Tigger, 2008-05-08: 18:57:00
Excellent! - Mustang, 2008-05-08: 19:20:00
Great word. - OZZIEBOB, 2008-05-08: 19:34:00
----------------------------
Created by: Nosila
Pronunciation: yoo fen iz im
Sentence: When Barney and his Mom fought it was funny. When they spoke of the other, they only said a youphenism, instead of the really rude words they were thinking.
Etymology: You (2nd person singular) & Euphenism (A euphemism is a substitution of an agreeable or less offensive expression in place of one that may offend or suggest something unpleasant to the listener,[1] or in the case of doublespeak, to make it less troublesome for the speaker.)
Created by: Mustang
Pronunciation: al - LOOD
Sentence: Cyrus had a coding system wherein he would use substitute words to allewd to words of graphic or vulgar nature.
Etymology: Play on the words allude and lewd... to refer to indirectly with couched obscenity.
----------------------------
COMMENTS:
clever - Jabberwocky, 2008-05-08: 14:21:00
Clever and interesting blend - OZZIEBOB, 2008-05-08: 19:38:00
Good one...he would allewd alloud allot! - Nosila, 2008-05-08: 23:15:00
----------------------------
Created by: Mustang
Pronunciation: al-LUDE
Sentence: Carson has a quick and clever wit and a bit of a dirty mind and will often use 'substitute' words that are intended to allewd to something raunchy.
Etymology: Play on the words 'allude' and 'lewd'... to refer to something indirectly with couched obscenity
Created by: rombus
Pronunciation: al - lu - ded
Sentence: Olive often allewded to lewd and vulger words by subtituting them with wholesome sounding happy phrases.... It was extremely difficult to say with certainty what her real intentions were but she definitely got her point accross.
Etymology: alluded (made a disguised reference to), lewd
----------------------------
COMMENTS:
Good one! - Mustang, 2009-06-23: 00:44:00
----------------------------
Created by: galwaywegian
Pronunciation: poooooo fem isum
Sentence: She let out a string of poophemisms that included a banker, a brickhead and several ducks
Etymology: euphemism, poo
Created by: Stevenson0
Pronunciation: code/vurs
Sentence: Around the office, us lackies have to codeverse so we don't offend the boss, or her prim and proper manager with our foul language. When angry at a co-worker, we often shout at them "Go f'coffee", or "He eats hit", but so far our codeversations haven't raised the ire of the language police.
Etymology: code + converse (To engage in spoken exchange)
Created by: arrrteest
Pronunciation: dis-kuss-fem-izm
Sentence: Tony was sitting in a chair in the principal's office again. "Tony, can you explain to me what you meant by 'dime beach?'" "Yeah, I went to a beach that charged a dime to go to it! I was just remembering it and I said it outloud. To nobody really, but Mrs. Fluster just happened to be there." The principal looked at him and shook his head. "Now Tony, yesterday you were in here for calling a classmate a 'shucking fithead' and tried to tell me that a fithead is what they call a healthy person who processes oysters. You're not fooling anyone, buddy. You've got to stop this discussphemism or you'll be finding yourself explaining this to your parents while you are on suspension!
Etymology: dis, disrespect + cuss, curse + phemism, from euphemism
Created by: mweinmann
Pronunciation: kus - wop - pur
Sentence: Joel had become an adept cusswapper. After years of practice he was able to speak expletively no matter what the situation and no one could really be certain that he was violating acceptable social practices. He used many common everday words as cusswappers; getting his point across quite well without really swearing.
Etymology: cuss, swap, swapper
----------------------------
COMMENTS:
from a cusswopper to a cusswapper! - Nosila, 2009-06-22: 18:15:00
----------------------------