Verboticism: Reincarbnation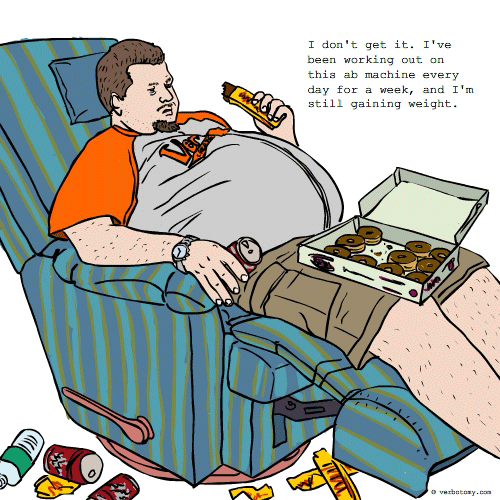 DEFINITION: n. The creepy pounds that sneak onto your waist even though you've been exercising and watching what you eat. v. To exercise rigorously, diet fastidiously, and yet still gain weight.
Already Voted
Vote not counted. We have already counted two anonymous votes from your network. If you haven't voted yet, you can login and then we will count your vote.
---
Reincarbnation
Thanks for voting! You have now used both of your votes today.
Created by: Tigger
Pronunciation: /siks-pak-FLABZ/
Sentence: Russell had switched to whole-grain doughnuts, light beer, and he was now using only low-fat mayonaise on his bacon and cheese sandwiches, plus, he'd been taking the stairs up to his 2nd floor apartment once a day, instead of using the elevator, and he'd even started doing armchair aerobics — trying to reach down to touch his knees during the TV commercials — and yet he was still gaining weight. Now he had sixpackflabs to show for it, and was well on his way to sporting a keg-belly.
Etymology: blend of; Six-Pack-Abs - well developed abdominal muscles (colloqiualism for the three pairs of bulges apparent in well defined abdominal muscles) + Flabs - soft fatty body tissue (back-formation from flabby, from Middle English, flabband "flapping")
----------------------------
COMMENTS:
Roared with laughter over keg-belly and sixpackflabs! Terrific Wons! - silveryaspen, 2008-03-19: 10:02:00
----------------------------
Created by: Nosila
Pronunciation: so fa no gud
Sentence: Dwight's campaign motto to lose weight was (sofasogood) but it was turning into (sofanogood) due to his unexpected weight gain on lettuce leaves alone in the first week.
Etymology: So far so good (optimistic) & Sofa (couch) no good (not for weight loss, anyway!)
Created by: youmustvotenato
Pronunciation: Like attack except with an F
Sentence: More fattack?
Etymology: Fat + attack
Created by: Biscotti
Pronunciation: role-backs
Sentence: John couldn't figure out why he had a horrible case of the rolbax. He weighed himself every night before bed and then weighed himself every morning at about 5 pounds more than the previous day's start. He used the weight set day and night for weeks; and was ready to file a complaint to the company until his wife told him he had a horrible midnight snack attack every night...to which John replied, "But I only ate 5 pork chops, two gallons of ice cream and drank half a keg of beer..."
Etymology: roll (to move) + backs (coming back)
----------------------------
COMMENTS:
Like those rollbacks at Walmart ... that keep creeping up on you! Best part of your words is the 'ax' ... for chopping fat off! Fun Won! - silveryaspen, 2008-03-19: 10:15:00
----------------------------
Created by: idavecook
Pronunciation: FAL-OR-EES
Sentence: These 100 calorie packs have added like 500 phalories on me!
Etymology: Phantom Calories
----------------------------
COMMENTS:
I've never seen a calorie, never felt one, so I think phalories is a perfect word for them! Well done! - silveryaspen, 2008-03-19: 20:31:00
----------------------------
Created by: silveryaspen
Pronunciation: way - of - lie - f
Sentence: By a voiding calories, Cary hoped to become thin as a calla reed, but he bloomed out like the petals on that lily. Eliminating fatty acids, he still wound up fattyassed. By eating lots of cucumbers and salad veggies, he hoped to tighten his belt a notch or two, but he had to let it out a notch ... due to the inexplicable incomebrance! Cary wanted to scale down, but when he weighed in, he was up'scale'ated. "Help!" Cary cried, "I'm sick of this weighoflife. Please, lettuce turnip and pea it off!
Etymology: Way of Life, Weigh of Life.
----------------------------
COMMENTS:
Weigh to go, silveryaspen! I love the weigh you pepper your sentences with sayings that are hard to beet! - Nosila, 2008-03-19: 01:14:00
Very good! If Cary doesnt 'meat' this problem straight aweigh, he'll be doomed to simply vegetate and perhaps even grow scales. - Mustang, 2008-03-19: 06:49:00
very nice - Jabberwocky, 2008-03-19: 11:44:00
Good one! - OZZIEBOB, 2008-03-20: 05:00:00
----------------------------
Created by: Soyabaa96
Pronunciation: Fat so` ish man ism
Sentence: I have a horrible case of Fatsoishmanism
Etymology:
Created by: sheilamusti
Pronunciation:
Sentence:
Etymology:
Created by: rikboyee
Pronunciation: kil-err-joolz
Sentence: every time he attempted to lose weight he would be ambushed by killerjoules
Etymology: killer, kilojoules
----------------------------
COMMENTS:
So true! So Powerful! - silveryaspen, 2008-03-19: 10:11:00
----------------------------
Created by: Mustang
Pronunciation: In - fats - yoo - ait
Sentence: When Vernon saw how many inches he'd added to his waist in recent months he muttered to himself, "t must have been something infatsyouate."
Etymology: Play on the word infatuate...infatuated with food, Vernon simply ate too much.
----------------------------
COMMENTS:
Exceptional word play! - silveryaspen, 2008-03-19: 09:59:00
I like it! - purpleartichokes, 2008-03-19: 20:49:00
----------------------------