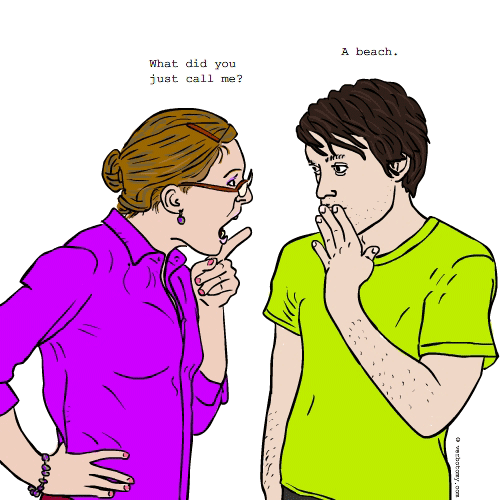 DEFINITION: v. To use alternative "code words" instead of proper cuss words, in an effort to satisfy people offended by such vulgarisms. n. A word used as a replacement for an obscene or profane expletive.
Voted For: Cusswapper
Successfully added your vote for "Cusswapper".
You still have one vote left...
Created by: splendiction
Pronunciation: pro fam i li ty
Sentence: The Goode's espoused family values and so expressed anger with profamility like "fudge" and "mitt" instead of good old four-letter words such ass f*** and ***t.
Etymology: From profanity and family.
----------------------------
COMMENTS:
Whoops-didn't mean to add the extra s to as! - splendiction, 2009-06-22: 20:30:00
----------------------------
Created by: youmustvotenato
Pronunciation: rhymes with purse
Sentence: While reading Huck Finn in his 8th grade class, we had to blurse all the racial slurs replacing "n*****" with "no gooder".
Etymology: bleep+curse
Created by: TJayzz
Pronunciation: bloo-pur-poo-pur
Sentence: Those blooperpoopers really annoy me . Only the other day I heard a woman say she had got in a right mucking fuddle, it took me ages to realise what she meant.
Etymology: Blooper(something that should not have been said)Pooper(To ruin, spoil)
Created by: didsbury
Pronunciation: pro-f-eye-nn
Sentence: I'm sorry officer but you must have misheard me. If we do go to court I think you will find that 'crucking funt' is a profinity and not a profanity.
Etymology: Turning the profane into the profine was an art form perfected by the French aristocracy in the early years of the republic. They were also helped by atrocious aural hygiene standards during this period of history.
----------------------------
COMMENTS:
reminds me of the guy on Capitol Steps who tells the stories with initial letters transposed. One concluded thast Haris Pilton simply needed a little soap in her hole; then there was the spale of Elliot Titzler.... - stache, 2008-05-08: 19:02:00
...er, Titzer. You know, the guy wh went to all the hicey prookers? nd I mean hicey. We're not talking bwenty tucks. No, not birty thucks. No, not even borty...never mind. - stache, 2008-05-08: 19:05:00
----------------------------
Created by: Rutilus
Pronunciation: sub-yooz
Sentence: "Piece off" she yelled to the young man crossing the road. Jemima's impatience and road rage was leading her to subuse people in the most public places.
Etymology: sub (from substitute) - to replace; abuse (v) - to insult, cause harm to others
Created by: petaj
Pronunciation: you-feck-miz-m
Sentence: Gordon Ramsay's kitchen nightmares had to be dubbed with eupheckmisms before it could be screened on the family viewing channel.
Etymology: euphemism (word or phrase used to stand in for a taboo word, or topic that is unpleasant to talk about) + feck (irish eupheckmism for the f word)
----------------------------
COMMENTS:
Good one, petaj...Gordon Ramsay was a feckin' eejit long before it was fashionable to be so... - Nosila, 2008-05-08: 23:19:00
----------------------------
Created by: Nosila
Pronunciation: fo kuss
Sentence: Dr.Seemore Glasses was an optometrist and normally a man of vision. Born a Presbyopic, he'd rather ride the cataracts than attend Church or Temple. He was short-sighted in one aspect: he was afraid to make a spectacle of himself in front of his clients. Although it sounded cornea, he hated to swear in front of them. He would tell them he needed to fauxcuss, when they did or said something stupid. One fellow kept making an astigmatism of himself, so Dr. Seemore stopped seeing him, before their macular degenerated anymore. Through his contacts, the doctor also teaches at the university and lens his experience to the newbies. Unfortunately, the boring nature of eye topics often made his pupils dilate. One day he fauxcussed on his lovely assistant, Iris,who he claimed was untidy, blind to messes and kept their office like a sty. She in turn accused Dr. Seemore of ogling her. Although it later turned out that she was bipolarized and also binocular, she pressed charges. As the police led away the good Dr.Seemore, he was heard to yell, "I've been framed!"
Etymology: Faux (not genuine or real; being an imitation of the genuine article) & Cuss (profane or obscene expression usually of surprise or anger;utter obscenities or profanities)
----------------------------
COMMENTS:
Good word! - Mustang, 2008-05-08: 07:45:00
best word this month!! - galwaywegian, 2008-05-08: 12:13:00
The story alone is worth a vote! - pieceof314, 2008-05-08: 14:05:00
wow - so many good words today - Jabberwocky, 2008-05-08: 14:22:00
Spot on - Love it! - Tigger, 2008-05-08: 18:59:00
Excellent. - OZZIEBOB, 2008-05-08: 19:35:00
My fave - arrrteest, 2008-05-08: 22:39:00
I'd like to thank the members of the Academy...Cheers All! - Nosila, 2008-05-08: 23:09:00
----------------------------
Created by: artr
Pronunciation: fōfanətē
Sentence: Marge is the queen of fauxfanity. Her coworkers have no doubt how she feels even though she tries to remain semi-polite by using substitutes for profane language. Phrases like "No friggin' way", "What the fudge","Kiss my bass" or "Go hug yourself" have raised more than a few eyebrows.
Etymology: faux (artificial or imitation) + profanity (blasphemous or obscene language)
----------------------------
COMMENTS:
similar combinations but different results - great word - Jabberwocky, 2009-06-22: 14:18:00
----------------------------
Created by: Mustang
Pronunciation: al-LUDE
Sentence: Carson has a quick and clever wit and a bit of a dirty mind and will often use 'substitute' words that are intended to allewd to something raunchy.
Etymology: Play on the words 'allude' and 'lewd'... to refer to something indirectly with couched obscenity
Created by: Stevenson0
Pronunciation: code/vurs
Sentence: Around the office, us lackies have to codeverse so we don't offend the boss, or her prim and proper manager with our foul language. When angry at a co-worker, we often shout at them "Go f'coffee!", or "Eat hit, you bit head!", but so far our codeversations haven't raised the ire of the language police.
Etymology: code + converse (To engage in spoken exchange)