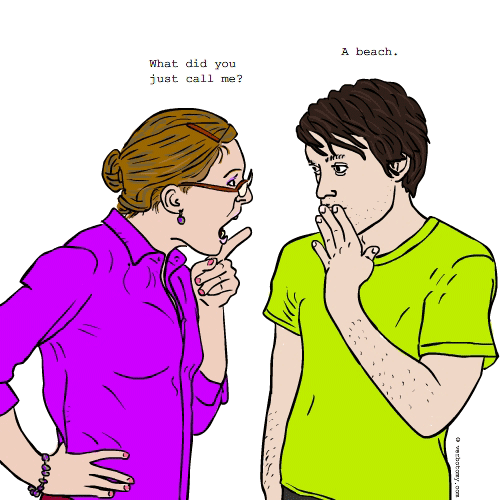 DEFINITION: v. To use alternative "code words" instead of proper cuss words, in an effort to satisfy people offended by such vulgarisms. n. A word used as a replacement for an obscene or profane expletive.
Already Voted
Vote not counted. We have already counted two anonymous votes from your network. If you haven't voted yet, you can login and then we will count your vote.
---
Parracore
You still have one vote left...
Created by: artr
Pronunciation: fōfanətē
Sentence: Marge is the queen of fauxfanity. Her coworkers have no doubt how she feels even though she tries to remain semi-polite by using substitutes for profane language. Phrases like "No friggin' way", "What the fudge","Kiss my bass" or "Go hug yourself" have raised more than a few eyebrows.
Etymology: faux (artificial or imitation) + profanity (blasphemous or obscene language)
----------------------------
COMMENTS:
similar combinations but different results - great word - Jabberwocky, 2009-06-22: 14:18:00
----------------------------
Created by: rombus
Pronunciation: al - lu - ded
Sentence: Olive often allewded to lewd and vulger words by subtituting them with wholesome sounding happy phrases.... It was extremely difficult to say with certainty what her real intentions were but she definitely got her point accross.
Etymology: alluded (made a disguised reference to), lewd
----------------------------
COMMENTS:
Good one! - Mustang, 2009-06-23: 00:44:00
----------------------------
Created by: mrskellyscl
Pronunciation: ex-pleh-toot
Sentence: Mommy often had to expletute words around the baby, who was beginning to show an uncanny ability to imitate her speech patterns, especially when she was having a discussion with daddy about golf.
Etymology: expletive: vulgar or coarse word to express emotion + substitute: a replacement
Created by: Stevenson0
Pronunciation: code/vurs
Sentence: Around the office, us lackies have to codeverse so we don't offend the boss, or her prim and proper manager with our foul language. When angry at a co-worker, we often shout at them "Go f'coffee", or "He eats hit", but so far our codeversations haven't raised the ire of the language police.
Etymology: code + converse (To engage in spoken exchange)
Created by: youmustvotenato
Pronunciation: rhymes with purse
Sentence: While reading Huck Finn in his 8th grade class, we had to blurse all the racial slurs replacing "n*****" with "no gooder".
Etymology: bleep+curse
Created by: galwaywegian
Pronunciation: ooooooo fem iz em
Sentence: They used several ooophemisms including a poophemism, some brewphemisms and several screwphemisms.
Etymology: oooooooh, euphemism
----------------------------
COMMENTS:
oooooooh - love it - Jabberwocky, 2008-05-08: 14:20:00
----------------------------
Created by: phoenix89
Pronunciation: Pro - covert - an -it-e
Sentence: Sometimes children curse when they shouldnt or when they are angry. To avoid punishment for using profanity they do it covertly and call it " procovertanity ".
Etymology: Profanity (profane conduct or language) Covert ( to conceal , disguise , or do in secrecy)
Voted For! | Comments and Points
Created by: mweinmann
Pronunciation: kus - wop - pur
Sentence: Joel had become an adept cusswapper. After years of practice he was able to speak expletively no matter what the situation and no one could really be certain that he was violating acceptable social practices. He used many common everday words as cusswappers; getting his point across quite well without really swearing.
Etymology: cuss, swap, swapper
----------------------------
COMMENTS:
from a cusswopper to a cusswapper! - Nosila, 2009-06-22: 18:15:00
----------------------------
Created by: libertybelle
Pronunciation: smut-stih-toot
Sentence: Because I work in a kindergarten I maintein a constant cuss diet and will resort to using smutstitute words when I am really gee-golly ticked off at some wing-nut. Though I'd reaally like to tell them to go fudge themselves!!
Etymology: smut + substitute
----------------------------
COMMENTS:
nice - Jabberwocky, 2008-05-08: 14:24:00
Perfect! - Tigger, 2008-05-08: 18:57:00
Excellent! - Mustang, 2008-05-08: 19:20:00
Great word. - OZZIEBOB, 2008-05-08: 19:34:00
----------------------------
Created by: petaj
Pronunciation: you-feck-miz-m
Sentence: Gordon Ramsay's kitchen nightmares had to be dubbed with eupheckmisms before it could be screened on the family viewing channel.
Etymology: euphemism (word or phrase used to stand in for a taboo word, or topic that is unpleasant to talk about) + feck (irish eupheckmism for the f word)
----------------------------
COMMENTS:
Good one, petaj...Gordon Ramsay was a feckin' eejit long before it was fashionable to be so... - Nosila, 2008-05-08: 23:19:00
----------------------------