Verboticism: Hotdoggedness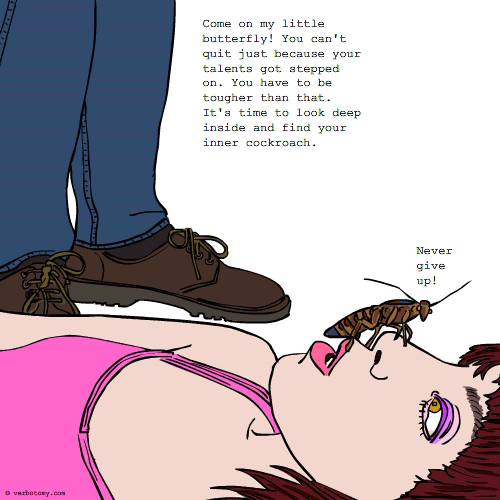 DEFINITION: n. A person who succeeds not because of their talents, but because they just won't quit. v. To firmly believe in your talents and never give up on your goals, despite the huge obstacles, snide comments, and repeated setbacks.
Hotdoggedness
Pronunciation: hot dog ed ness
Sentence: Werner Wiener was known for his hotdoggedness. When the agency scouts came to a town near him looking for fresh new talent, he relished becoming their new Top Hot Dog. He mustard been born with a determined streak, for although he was small when born, like a cocktail weenie, everyone knew he'd soon ketchup and be as big a Wiener as his Dad, Frank. Werner knew he would have to rely on his hotdoggedness to win, because he was not as handsome or suave as some of the other wieners, although he was told that he had nice buns. He competed against a kobhasa named Garlic Ring, the Ukrainian Hamlet; a British banger named Todd Inthehole; a Brat (one of the wurst Germans he'd met) named Knock Wurst; a pair of sweet Italians, named Sal Ami and Pep Peroni (who were always casing the joint) and his wurst nightmare, a Spanish conquistador named Pepe Chorizo(they thought he was a Chile Dog), whom all the women loved. Although Werner sizzled in the talent portion singing "MacArthur Pork", minced around on stage and finally was named Sausage Idol, many thought it was because of his links to the Bologna crime family. Few knew it was because he had had a sausage roll in the hay with one of the judges, Hamela Anderson. But don't worry, he wore a condiment!
Etymology: hot (very intense,performed or performing with unusually great skill and daring and energy;marked by intensity or vehemence especially of passion or enthusiasm)& hot dog (someone who performs dangerous stunts to attract attention to himself) & dogged ( stubbornly unyielding, persistent)
Points: 680