Verboticism: Dracomicarceration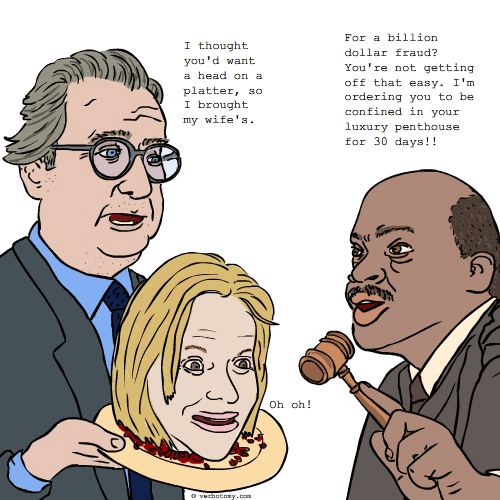 DEFINITION: n. A punishment which does not fit crime. v. To assign a punishment which is bizarrely inappropriate, and seems totally unrelated to the crime which has been committed.
Dracomicarceration
Pronunciation: dra-COMIC-are-sur-AY-shun (DRACOMICARCERATE)
Sentence: Judge Mentill-Case was not elected. He was a political apointee who wielded his gavel with wild abandon. Ever since his pet pug was flattened by a Lexus, he delighted in enforcing the hamlet's no-cell-phone driving ordinance. His punishment for a first offender was removal of all glass on the vehicle. Second offense entailed driving with snow chains on all four tires for a year. Third offense was DRACOMICARCERATION-confinement to a Volkswagon Beetle with the doors welded shut. The Judge's career ended when he crashed into a Starbuck's while texting.
Etymology: DRAconic+COMIc+inCARCERATION= DRACOMICARCRATION.....DRACONIC:of, relating to, or characteristic of Draco or the severe code of laws held to have been framed by him; Latin Dracon-, Draco, from Greek Drakōn Draco (Athenian lawgiver).....COMIC: causing laughter or amusement, funny, of, relating to, or marked by comedy; Latin comicus, from Greek kōmikos, from kōmos revel(1576).....INCARCERATE: to subject to confinement, to put in prison, to punish; Latin incarceratus, past participle of incarcerare, from in- + carcer prison Date: 1560,
Points: 944