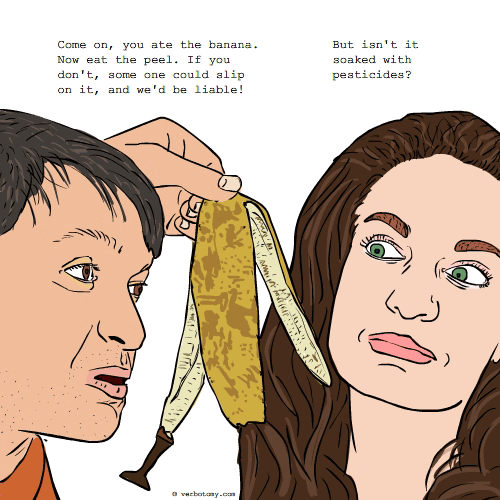 DEFINITION: n., The fear of eating the skins of fruits, vegetables, or small animals. v., To worry about saving one's skin while chewing on a rind, peel, or pelt.
Dermadrama
Pronunciation: dir ma dra ma
Sentence: Tanya Hide and Ed P. Durmass were seasoned actors on the highly acclaimed daytime series, "The Young and the Wrinkleless". Ed's character tried to force his victim, Tanya, to eat a banana peel. He knew her dermadrama regarding rinds of fruit would make great tv. She refused and said, "Take your banana and split". To which he replied, "Don't you like it? It has a peel...". Tanya shoved the offending former fruit covering into Ed's mouth and forced it in. He gagged and ran to wash out the bitter taste with some cleansing lather. This is really why their show is called a Soap Opera...
Etymology: Derma (the deep vascular inner layer of the skin) & Drama (turbulent or highly emotional situation;the quality of being arresting or highly emotional)
Points: 521