Verboticism: Computiledysfunction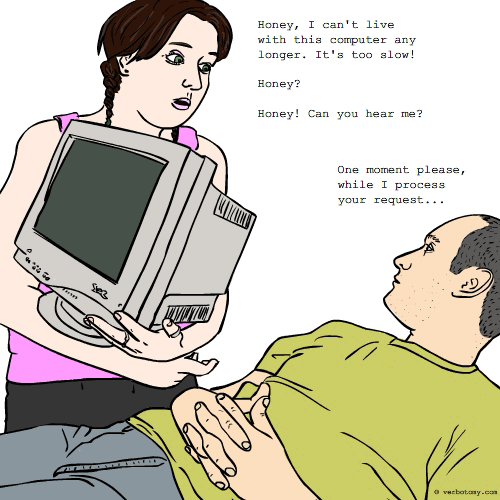 DEFINITION: n., A slow computer with insufficient memory; also, a slow-thinking husband. v., To take an extraordinarily long time to respond to a relatively simple request.
Computiledysfunction
Pronunciation: com-pew-tile-dis-funk-shun
Sentence: It may happen to a lot of guys, but Kimberly refused to let ComputileDisfunction stand in her way of a satisfying online social life. "They get old and the spark just isn't there, where it counts, the memory data register." She said as she unpacked her newest computer; "This one will last about a year, I like 'em young." When asked about the prospect of using her new hardware to find a mate, the logic didn't compute: "This is why I don't have a husband. Who needs one?"
Etymology: computile (bend of computer + futile) + dysfunction (not working properly.) Play on "erectile dysfunction"
Points: 974