Verboticism: Missunderstood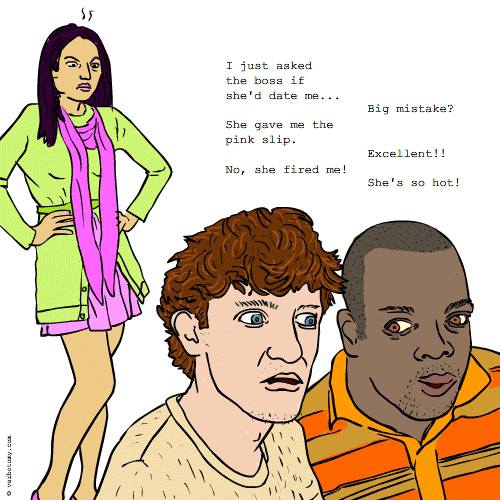 DEFINITION: v. To make a mistake where the benefits exceed the costs of the screw-up. n. An excellent mistake, which despite its stupidity, produces a positive outcome.
Voted For: Missunderstood
Successfully added your vote for "Missunderstood".
You still have one vote left...
Created by: petaj
Pronunciation: byoo-dee-trap
Sentence: Mark was on a sweet learning curve after falling for a bewdytrap. Although he succumbed to the seductive charms of a woman in power and asked her out for a date, the resulting dismissal led to a new job as a female impersonator. His strutting around the stage was reminiscent of his ex-boss and he was a huge hit with the audience.
Etymology: booby trap (something that causes someone to suffer an accident or make a mistake) + bewdy (Aust. sl variation of beauty meaning excellent)
Created by: Nosila
Pronunciation: miss under stood
Sentence: When Joe asked Miss Rogers out on a date, he thought she misstook his intentions, because she fired him. He at first was hurt. She explained later that the Company had a policy against the workers dating each other and since she found him hot and he hated his job anyway, it was a blunderful result. She missunderstood him.
Etymology: Miss (young female) & Understood (indicated by necessary connotation though not expressed directly)
----------------------------
COMMENTS:
Blunderful! Love it~ You're such a wordsmith~ I voted for you! :) - abrakadeborah, 2011-11-28: 20:36:00
----------------------------
Voted For! | Comments and Points
Created by: Mustang
Pronunciation: serr - uhn - DUM - uh - tee
Sentence: Felicity had a glorious gift for serendumbity; many things that might turn into disasters became successes in spite of her ineptitude in actually planning her life.
Etymology: blend of serendipity and dumb
----------------------------
COMMENTS:
nice word - Jabberwocky, 2008-05-02: 14:07:00
Great choice in name, too! - pieceof314, 2008-05-02: 14:28:00
Good name for the next sequel to 'Legally Blonde'. - Tigger, 2008-05-02: 22:02:00
----------------------------
Created by: Nosila
Pronunciation: win kor rekt
Sentence: Tony always played the same lottery numbers every week...a combination of birthdates of his family. For 20 years he won nothing. One day he had to rewrite his lottery board because the old one would not go through the reader. He accidentally transposed one birthdate from an 12 to a 21 and lo and behold that group he selected won full prize of several millions...he got the wincorrect winning numbers afterall!
Etymology: Win (victory;attain something) & Incorrect (not correct; not in conformity with fact or truth)
Created by: Rutilus
Pronunciation: cat-as-ter-if-ik
Sentence: Geoff was happily contemplating the reason he'd got here.Refusing to accept his line manager's bullying and getting fired had given him time to study and re-train. Here was a man better qualified, better off and much happier. Oh how he chuckled at an event he had seen as a disaster had in fact been completely catasterrific for him.
Etymology: Catastrophic - dramatic negative effect; Terrific - extremely good, wonerful
Created by: Mustang
Pronunciation: sair-ehn-DUM-eh-tye
Sentence: Once again Filbert was the accidental 'victim' of serendumbity, having made what for anyone else would be a major faux pas but for him ended up with his dream date.
Etymology: Blend of 'serendipity' (finding unexpected treasure or joy) and 'dumb' (stupid - unintelligent)
Created by: d1420
Pronunciation: mi-steyk tas-tik
Sentence: Jack's decision to sale his only source of milk and protein for "magic beans" sorely upset his mother and put him in a jam. But he soon realized that his mistaketastic set him on his epic adventure up and down the beanstalk.
Etymology: mistake = a misunderstanding or misconception + fantastic = extravagantly fanciful; marvelous
Created by: artr
Pronunciation: bləndərlək
Sentence: Robert didn't realize his mother in-law was standing in the doorway when he confessed to his brother that he hated her green bean casserole. Rob's blunderluck was that she hated it too but continued to foist it on the family thinking they enjoyed it. She was greatly relieved to be able to try something new.
Etymology: blunder (a stupid or careless mistake) + luck (success or failure apparently brought by chance rather than through one's own actions)
Created by: rebelvin
Pronunciation: beneFIT+faux pas
Sentence: I dialed my old girlfriend by mistake but it turned into a benefauxpas when unexpectedly she told me she wanted to get back together!
Etymology: beneFIT+faux pas
Created by: didsbury
Pronunciation:
Sentence: When I dinged my boss's car in the lot I thought I was fired for sure but the whole situation was totally clutzverted. It turns out she wanted an excuse to claim insurance for some damage done in a not-so-secret DUI incident last month.
Etymology: Derived from the German 'klootzverteignung'. First written usage in 1538 in the description of a mid-summer festival where the death of 250 Bavarian villagers created a flourishing tourist trade at the site of the event.
----------------------------
COMMENTS:
Great word. - OZZIEBOB, 2008-05-04: 06:49:00
----------------------------